I'm happy to team up with my friends at
The Primary Pack
to share with you some things I really want for Christmas and some things you may want to add to your wish list!
I have been hearing about how amazing Tieks are for teachers' feet and gave in and got a pair over the summer. They are these amazing fancy-pancy ballet flats made of Italian leather and have the most adorable turquoise sole. I had very high expectations and was a bit disappointed with them for a few weeks. Probably because I'm not one to splurge on clothes and shoes anymore, so I was expecting something magical to happen. I will say though, after breaking them in, I'm a true Tieks believer. They're so dang comfy and perfect for being on my feet all-day-long! I'd love a hot pink pair (hint hint to my mister)!
I would also love a laser printer because I go through ink like it's going out of style. Spending 50 bucks a month just doesn't seem right people! I've heard great things about this model and it's on SALE on Amazon. Plus, I'd love to be able to catch up on Scandal and print, from the comfort of my couch. Yes, please!
I love anything that my friend Nikki of Melonheadz creates. I am absolutely in love with her new Snow Fun bundle. Aren't they just the cutest? For a minute, her newest pack makes me want to live in the snow (but just for a short minute)!
With Common Core, my school is really pushing for more academic conversations and I think this product would be perfect, especially during Guided Reading.
Now that we're using Number Talks and doing a lot more with word problems, we don't have as much time for math centers like I did last year. But, I have a sample of one of the games from this awesome pack and my kiddos are obsessed! They choose this game more than any of the others! I can't wait to purchase the full pack to use with my kiddos after break!
These are my most wish listed items in my
TpT store
.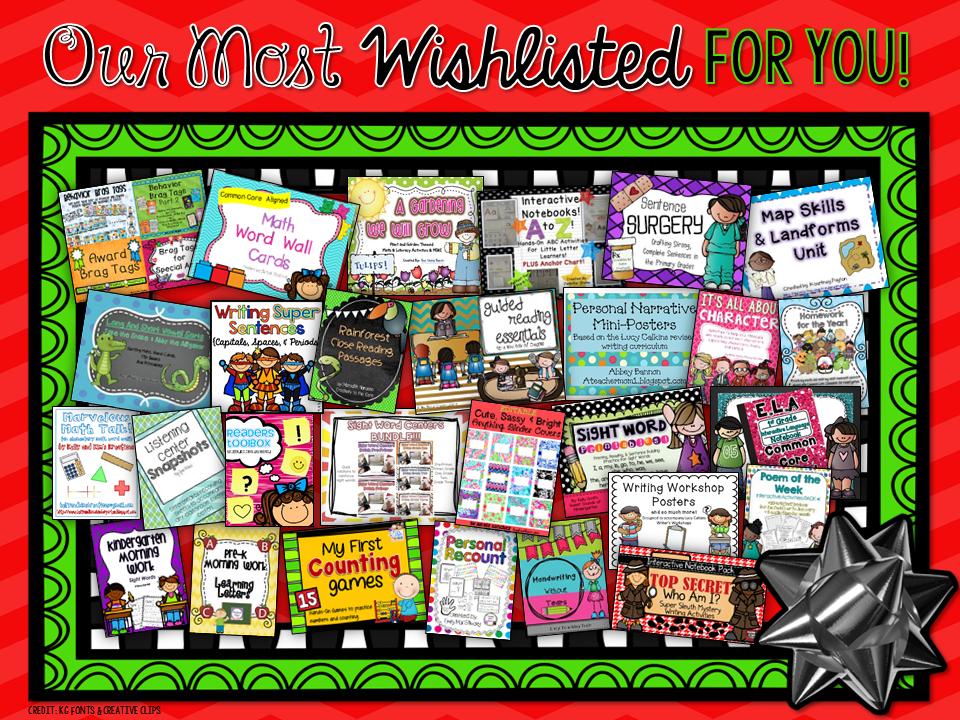 Drumroll please…. Check out this HUGE giveaway package you can win by entering below! There is a resource from almost everyone in The Primary Pack, perfect for all primary grades!! Good luck, friends and happy shopping!
Now It's Your Turn To Join The Fun!

Just a few rules to follow and your on your way:
1. Download the images above!
2. Add your favorite sellers products in your TpT cart to the "My Black Friday Wishlist"
3. Add your own products to the "For Your Black Friday Wishlist"
4. Link up below to share your Black Friday Wishlists!
5. Don't forget to enter our fabulous giveaway above AND visit others linked up below!

(Visited 211 times, 1 visits today)